There are MORE THAN 23 ANTI-CHOICE EXTREMIST CANDIDATES ON THE BALLOT in the Hudson Valley alone, this November! Do you know their names?  Do your neighbors? The Bright Yellow ProChoice Voting Guide will tell them, and you.
Our ProChoice Voting Guide mobilizes an unprecedented number of pro-choice voters in New York – voters who vote the issue! PLEASE DON'T SIT THIS ONE OUT!
CLICK HERE TO READ THE PROCHOICE VOTING GUIDE!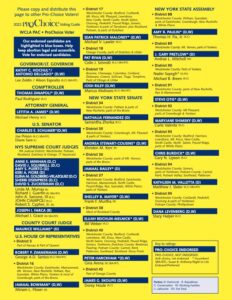 YOU CAN MAKE THE DIFFERENCE BETWEEN WINNING AND LOSING.   We need your help to mail the Yellow ProChoice Voting Guide out to over 70,000 voters. Donate whatever amount you can.
Explanation/Opinion/Policy
WCLA – Choice Matters requires ALL candidates to submit a completed questionnaire in each election cycle in which a candidate is running. As explained in the Endorsement Policy at wclapac.org and prochoicevoter.org, WCLA PAC and ProChoice Voter use WCLA – Choice Matters' ratings of the questionnaires and/or interviews to make endorsement decisions. Other than candidates running for U.S. president or vice president, WCLA – Choice Matters has maintained this policy without exception for over 30 years. All candidates are informed that if they do not submit a completed questionnaire and/or participate in an interview if requested, he/she/they will be rated "anti-choice". This requirement is essential for two very important reasons: 1.) It exposes anti-choice candidates who opt not to return the questionnaire or participate in an interview rather than tell voters where they stand; and 2.) Candidates' positions change, as exemplified in the cases of Jeanine Pirro (2001) and Virginia Perez (2018.) Only because WCLA – Choice Matters required a completed questionnaire in each election cycle was the Organization able to expose the changes in these two candidates' positions. NYS Supreme Court candidate John Sarcone, who was rated anti-choice by the Organization in 2000 and 1998 when he ran for NYS Assembly, categorically refused to participate this year in an interview and threatened WCLA – Choice Matters with a lawsuit if it shared its opinion, rating him anti-choice in 2022. WCLA – Choice Matters declines to alter its rating process because that would constitute special treatment. WCLA – Choice Matters is non-partisan and is not allied with any political party. The Organization's sole mission is to fight for comprehensive reproductive healthcare for all women and to eliminate all inequities in accessing that care. The Organization holds all candidates to the same standards, and does not give any individual special treatment. Endorsements are made but not necessarily accepted. WCLA – Choice Matters has never and will never let its judgement and political opinions be compromised on any basis.